Skip to Main Content
It looks like you're using Internet Explorer 11 or older. This website works best with modern browsers such as the latest versions of Chrome, Firefox, Safari, and Edge. If you continue with this browser, you may see unexpected results.
Library Instruction Services
Our Research and Instruction librarians are happy to consult with you on how we can support your teaching, from selecting online teaching resources, to creating course-specific research guides, to creating assignment-specific interactive tutorials, to scheduling a synchronous instruction session.
Check out some examples of what we can do for you!
We welcome your questions. Please email jenny.mills@belmont.edu to learn more about our Instruction Services.
Request a Consultation
Librarians can help with developing or revising a research assignment that will support students throughout their research and writing process.
Digital Research Tools
Looking for a digital alternative to the traditional research paper assignment? We've compiled a list of tools and suggestions at the link below.
Information Literacy Program
Learn more about the library's Information Literacy Program by checking out our Information Literacy LibGuide.
It also includes information on the following:
Course Guides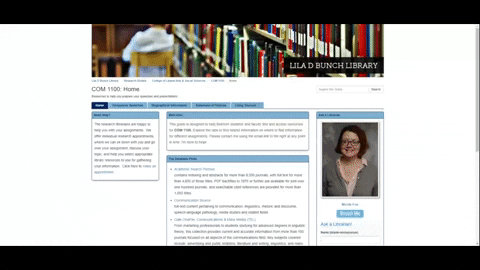 Course Guides can be a great way to direct your students towards the perfect library resources for your class. They're librarian-made websites that you can easily link to in your Blackboard courses. We can create custom Course Guides that curate relevant resources for your class. Some examples include guides include our COM 1100 guide and our ENT 3000 guide.
Interested in working with a librarian to create a custom Course Guide? Contact your library liaison to get started!
Online Tutorials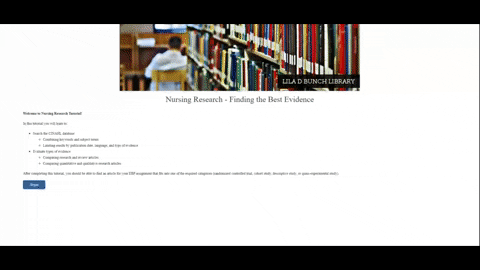 We can create self-paced interactive tutorials using LibWizard software like the following:
Nursing Research: Finding the Best Evidence (Note that you'll be asked to enter your name and select an instructor. This is how we report who has completed the tutorial. Feel free to enter your name or even 'Jane Doe' and select any instructor in order to look through the tutorial.)
Interested in working with a librarian to create a custom tutorial? Contact your library liaison to get started!