Getting Started with PaperCut
Click Here to Load All Videos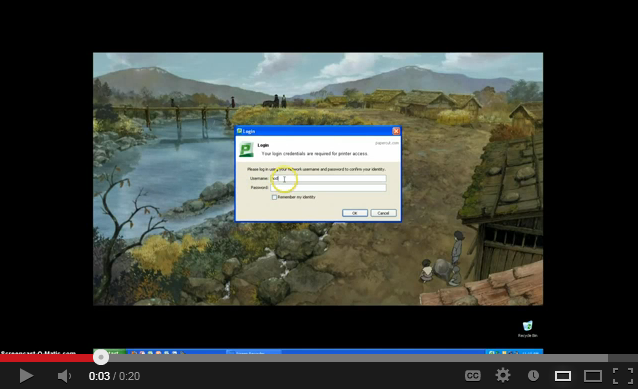 Frequently Asked Questions
Q: How do I login to PaperCut?
A: Public computers at bunch Library should be logged into PaperCut automatically. You should see a client box with a picture of Lila (a blue owl) and a dollar amount. When you first log onto the computer, the displayed dollar amoutn should be ZERO ($0.00).
Q: What if the client is displaying a non-zero balance?
A: Right-click on the picture of Lila (blue owl) and click Log Out. You should see the dollar amount roll back to ZERO ($0.00).
Q: What if there is no client box displayed?
A: Click the green P on the taskbar. If you do not see one, click Start, All Programs, then click the Papercut NG folder and click on the PaperCut NG Client program.
Q: What if I am a guest user without a MyBelmont account?
A: See a member of the library staff to receive guest account credentials and information about how to pay for your printing.
Q: How do I add money to my PaperCut account?
A: Select "Details" from the client box and then "Add Credit" on the Papercut webpage. Then you will be prompted to select the amount you want to add and your Credit Card info. (see video)
Q: What is the cost of printing with PaperCut?
A: The cost of printing was reduced to .05 cents per page, .08 for duplex, and .50 for color.
Q: Is wireless printing available?
A: Wireless printing is available through WebPrint at <http://papercut.belmont.edu> (see guide)
Q: Why does the computer say the PaperCut Client is already open?
A: Someone has forgotten to log out of their session. Right-click the small PaperCut icon in the systray (bottom righthand corner of your screen) and choose "Exit." Now, click the large PaperCut icon located on the taskbar to log in.
Q: How about if the PaperCut icon not in the systray?
A: Press the Alt Ctrl and Del keys all at once. Click Start Task Manager. Click the Processes tab, and find pc-client.exe. Click on it, and click the End Process button. This will definitely close out the program so that you can reopen it.
Q: How do I release a job that says it is "Held in a Queue"?
A: Log in at the Release Station, with your MyBelmont credentials (or guest account crednetials), to access and release the job. (see guide)
Q: What if I only have cash?
A: You may purchase a Top Up Card from the Circulation Desk. Cards can be purchases in the amounts of $1.00, $2.00, $5.00, $10.00, or $20.00.
Q: How do I transfer money to or from another account?
A: Log in at <http://papercut.belmont.edu>. Click "Transfers," enter the amount of money you wish to transer from your account, and type the MyBelmont username of the person whose account you want to transfer money to. Click OK to finalize the transfer.
Q: PaperCut charged me money, but I did not recieve my document(s). What do I do?
A: See a member of the library staff about refunds for print jobs.
Q: I clicked "Print" on the computer, but PaperCut did not charge me money. What do I do?
A: See a member of the library staff about getting your document to print
Q: What happens to my money at the end of the semester?
A: Your balance will carry over until you graduate or otherwise cease your enrollment at Belmont. If you are graduating, you can easily transfer your balance to a friend's account.